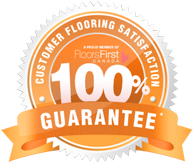 If you are not 100% satisfied we will replace your flooring material at no cost to you! †
†* Applies on a one time basis only to purchases of specified FloorsFirst ™ brands installed in a residential dwelling and used for residential purposes. Contact us for complete terms & conditions.
Be first to be informed of our latest flooring products, deals, and sales along with announcements, specials, and much more savings!